Repeat Customer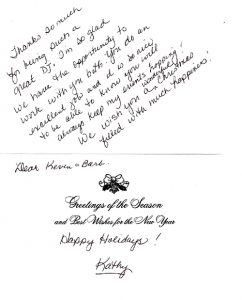 Kathy
Kathy
Highly Recommended
To Whom It May Concern:
We highly recommend Kevin and K & S Productions for any kind of occasion involving music. We were very fortunate to have Kevin as our DJ for our wedding reception in June of 2007, and we were very pleased with our decision.
From day one, we were very comfortable with Kevin's musical decisions and ability to read what we were looking for. He has a wonderful selection of music from all generations and genres that he shared with us prior to our wedding day.
Kevin's previous experiences as an entertainer shined through on our wedding day. He was able to get the crowd involved, keep them entertained throughout the night, and still maintain the schedule of special events that we wanted to take place. Kevin does a fantastic job as an Emcee as well. He is very professional, courteous, kind, and eager to make his client's special day go well.
We highly recommend Kevin and K & S Productions for your DJ service. You will not be disappointed with your decision and Kevin's wonderful talents.
Sincerely,
Brenton and Christine Kemmer
Special Day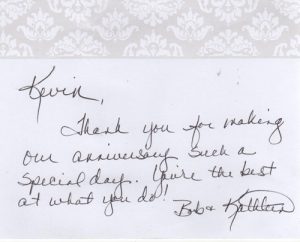 Bob & Kathleen
Very Exciting
Hi Kevin,
Thank you so much for playing at Klare and Rob's wedding! I'm still hearing really good feedback from friends and family. You kept us dancing and provided props to make it even more exciting. I really appreciate the way you made the wedding memorable and entertaining for all of us. My Mom (soon to be 95 yrs. old) stayed out later than she has in years; she had a wonderful time watching the dancers and listening to the music. I did the American Heart Association walk the weekend after the wedding and Rob's sister told me they had a riot dancing despite being sick and pregnant. You sure know how to bring out the best in a crowd!
Klare has been asked by co-workers to have you DJ their company Christmas party. My nephew's son (Logan) got married over Memorial Day weekend and attending family members were wishing you had played their wedding too.
May God continue to Bless your endeavors!
Ann Rumenapp
For additional references, feel free to contact:
Kathleen -- 586.915.7460